PPG Paints Arena
As a leading entertainment venue, PPG Paints Arena is the regional epicenter for athletic events, concerts, and family shows in Western Pennsylvania. Hosting more than 150 events per year, PPG Paints Arena's state-of-the-art design attracts national collegiate tournaments, including the first and second rounds of the 2012 NCAA Men's Basketball Championship, and is home to your Pittsburgh Penguins.
It is a downtown destination where lasting memories will be made and new traditions will take shape! PPG Paints Arena serves as an important catalyst in the revitalization of the community, helping to strengthen the vital Centre Avenue link between Uptown and the city's business district.

In addition, PPG Paints Arena offers guests efficient inbound and outbound access to area highways and interstates. Surrounding phased-in development creates a dynamic atmosphere for all to enjoy. For those planning an extended stay in the Arena District, the Cambria Suites at PPG Paints Arena is a welcomed retreat.

Whether cheering for a favorite team, attending a concert, hosting a national conference or planning a wedding reception, guests of PPG Paints Arena can appreciate the service, versatility, convenience, and unforgettable experience the facility was designed to deliver!
A Great Place For Fans
PPG Paints Arena's innovative and fan-friendly design provides the perfect atmosphere for enjoying a much-anticipated concert or action-packed game!
Among the wide variety of amenities and seating options:

The most comfortable seating arrangement in the NHL — seats will be up to 24 inches wide, with an accompanying increase in legroom
1,950 club seats located at center ice offering unmatched sightlines
Two unique clubs featuring bistro and bar service enabling guests to watch the live action while entertaining or conducting business
236 Loge Box Seats — the latest innovation in upscale seating
A spectacular private Executive Suite level, bringing 21st century luxury and amenities to the Pittsburgh suite experience — including four oversized party suites for additional entertainment options
ADA accessibility on every level
Family restrooms and Guest Services locations on all seating levels
Fine-dining restaurant to accommodate up to 250 guests
Four points of entry: Centre Avenue Lower Entrance, Centre Avenue Upper Entrance, Fifth Avenue and Washington Place and Private parking garage entrance for suite ticket holders
Four spacious and well-appointed conference rooms with retractable walls to accommodate any size group or business meeting — from 40 to 160 guests
12 escalators (that's 10 more than the Civic Arena!)
HD center-ice scoreboard for high-tech entertainment, replays and scores
Two 360-degree LED rings encircling the seating bowl — a first-of-its kind experience for Pittsburgh
800 HD TVs, of all sizes, located throughout the building for your viewing pleasure
One concession point for every 158 visitors
Public bar and food court on main concourse with view of the ice/event floor
Brew pub with drink rails on upper concourse overlooking the stunning Pittsburgh skyline
4,000 square foot Penguins team store — anything and everything for the Pittsburgh hockey fan — plus five smaller stores and additional retail areas throughout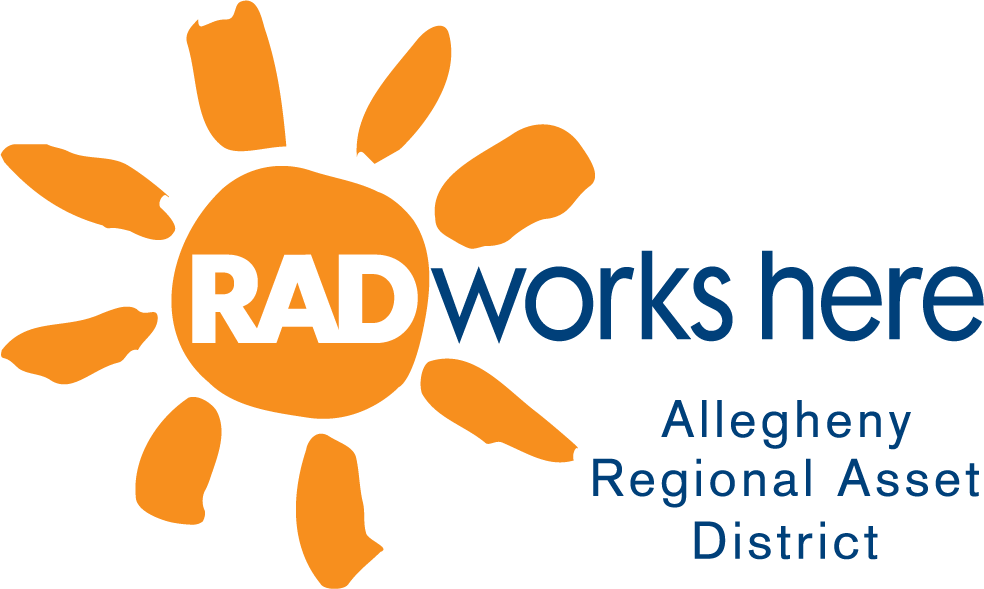 RAD WORKS HERE
The mission of RAD is to support and finance regional assets in the areas of libraries, parks and recreation, cultural, sports and civic facilities and programs. The District receives one-half of the proceeds from the 1% Allegheny County Sales and Use Tax and the other half is paid directly to the County and municipal governments by the State Treasurer.
Since 1995 and through 2019, the 1% County Sales tax paid by residents of and visitors to Allegheny County is expected to result in a more than $3.9 billion investment in the region.
For more information www.radworkshere.org