Introducing an innovative premium seating concept at PPG Paints Arena, the Loge Boxes offer a comfortable, upscale, semi-private area from which to enjoy the action.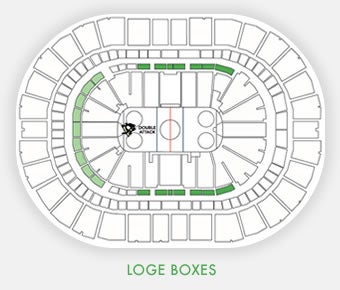 In addition to the personal space, the area affords, Lexus Loge Boxes deliver the highest level of hospitality at a fraction of the cost of an Executive Suite.
With two Loge Box areas and the option of leasing four or eight Loge Box seats, you will experience:
Cushioned Swivel Chairs
In-Loge Wait Service
Televisions
Wireless Internet Capabilities
Loge Locations
Double Attack Loge
Our 140 Endzone Loge Seats are ideally constructed with the fan experience in mind. Favorably positioned in the Penguins double attack zone, these Loge Boxes are only 26 rows from the ice and conveniently located directly on the lower concourse. The latest national trend in arena development, the Loge Boxes will impress your guests with a prime location suitable for enjoying the game in both comfort and style.
Club Loge presented by Lexus
Located behind the Club Seating area, our 96 Club Loge Seats will immediately impress your guests with superior quality, exclusive location, and desirable sightlines. Accessed by the premium lounge areas, the Club Loges is the perfect all-around experience that combines the luxury of a semi-private location within an atmosphere of heart-pounding action and upscale entertainment. Following the game, treat your guests to drinks and amazing city views from our exclusive fine-dining restaurant.

Available on a season basis, Club Loge Seats guarantee a ticket to every Penguins regular season home game and select non-hockey events. Your sightlines for sporting events, concerts and family shows will be second to none.
Loge Benefits

Exclusive Opportunity to Purchase Tickets for Select PPG Paints Arena Non-Hockey Events Before the Public On-sale Date via E-mail Notifications
First Opportunity to Purchase a Stanley Cup Playoff Package
Invitation to Exclusive Premium Seats Holder Event(s)
Access to Three (3) Exclusive Premium Lounges
Premium Seating Host Service
Complimentary VIP Garage Parking with Every Four (4) Seats Purchased on a Full Season Basis
Dedicated Personal Account Representative and Client Services Representative