Lexus Club
Established in the early 1980s and launched in 1989, the Lexus marque soon became associated with quality, ​luxury and superior customer satisfaction. The brand reputation grew quickly until, barely a dozen years after its founding, Lexus became America's best-selling line of luxury motor vehicles.
FINE DINING
Accommodating 210 guests, the Lexus Club is the perfect setting for your next party, wedding, convention, or conference. Located on the PNC Legends Level, the Lexus Club is a versatile and elegant facility with ample seating, top-shelf bar, and chef-prepared buffet.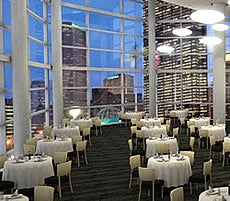 With a panoramic backdrop of the nationally-recognized Pittsburgh skyline, this year-round event space is sure to impress! Whether it's for business or pleasure, the restaurant is the ideal place to close a new deal, expand business relationships, reward employees and entertain family and friends. Full access to the fine-dining restaurant is included in all premium ticket purchases for Pittsburgh Penguins games.
RESERVATIONS
Premium seat holders and Lexus Club members who wish to make reservations prior to a Pittsburgh Penguins hockey game should call 412-553-8528 or email [email protected].